Creative EDG2
Creative Engineering Design for Global Good
Cultivating creative capacity in context to produce adaptive designs for a changing world
Purpose
The Baskin School of Engineering is partnering with Institute for Scientist & Engineer Educators (ISEE) to spur the development of undergraduate education that embraces the broader roles for engineers in a rapidly changing global context. This initiative will enable Baskin Engineering to integrate more opportunities for experiential learning while cultivating in students an entrepreneurial mindset focused on global good. 
Approach
We are empowering groups of faculty and students as change agents to lead and enact this initiative. The Creative EDG2 Framework is a conceptual tool we are using to guide these efforts. The framework offers heuristics to look  across multiple layers of any organization supporting formal and informal educational activities as well as the physical and socio-cultural contexts in which learning activity is occurring.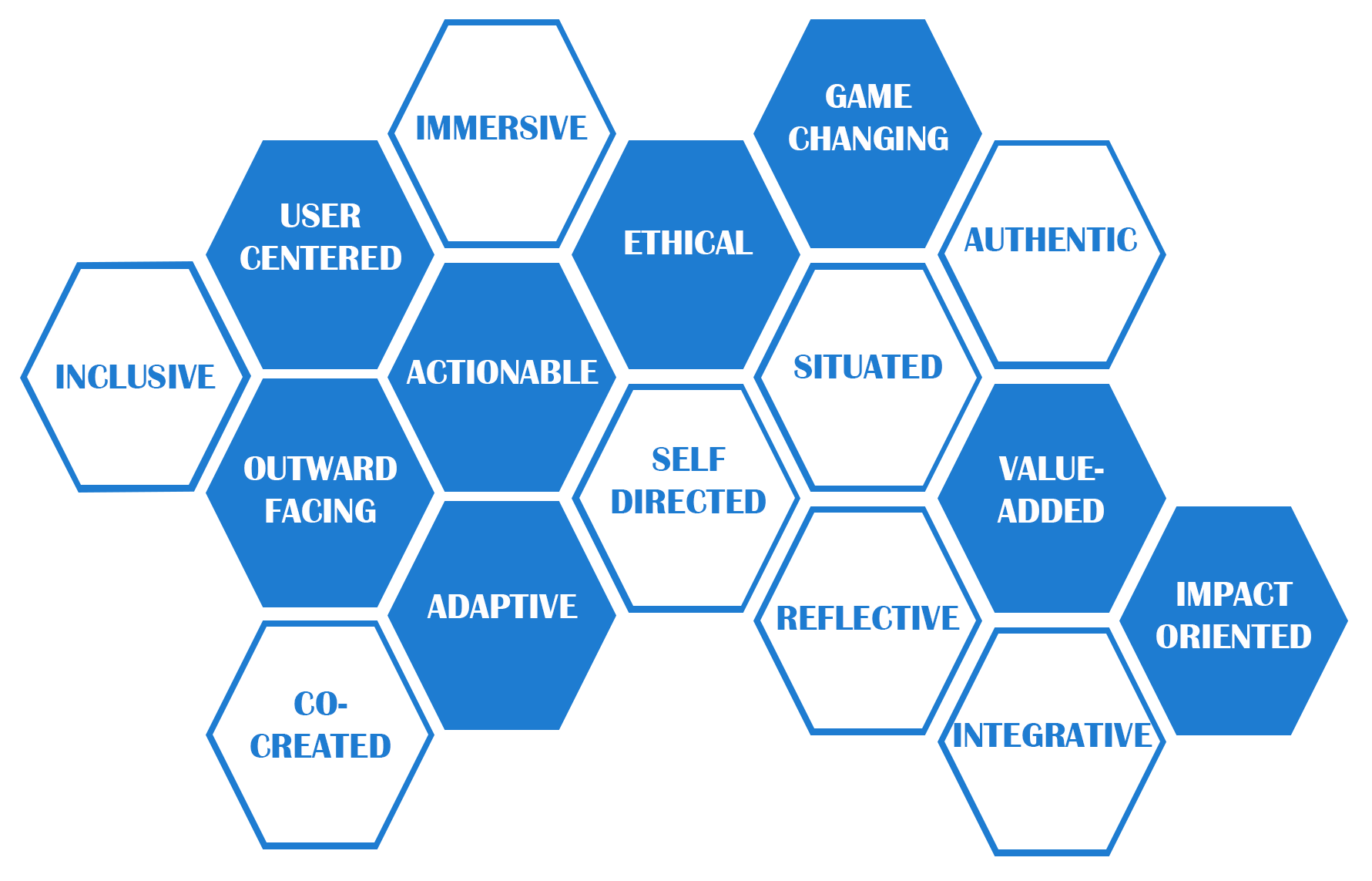 Adding know-why to know-how
Entrepreneurial Mindset
In an era where what you can conceive and do is more important than what you know,  Creative EDG2 emphasizes learning experiences that cultivate an entrepreneurial mindset among students who learn to define problems as opportunities to apply user-centered perspectives and create value-added solutions.
Experiential Learning
Starting from the idea that in order to learn engineering students need to "do" engineering, Creative EDG2 prioritizes opportunities for experiential learning inside and beyond the classroom. Opportunities to innovate embrace authentic problem-solving and design thinking practice. Students are encouraged to be creative, work as engineers, and reflect on how they learn.
... For Global Good
Creative EDG2 initiatives are designed to foster student growth in inter-cultural competency and to help them appreciate the entrepreneurial value of their designs as contingent on social, moral, and environmental outcomes rather than purely technological outcomes.
Partnership & Process
ISEE staff and the Baskin School of Engineering leadership are investigating and synthesizing strategies from universities that have successfully transformed their curriculum, and exploring ways to blend them with the existing efforts, unique strengths and new approaches developed here at UC Santa Cruz.  To date, these efforts have involved:
articulating a Baskin Engineering definition of "entrepreneurial thinking for global good" to drive curriculum development and pedagogy

exploring the theory, various approaches and documented outcomes of innovations in "experiential learning" at the undergraduate level

engaging Baskin Engineering faculty and staff in the process of developing a strategic vision;

building a framework for prioritizing and making decisions;

identifying relevant existing efforts, assets, and people at UCSC

reviewing and sharing relevant literature and reports;

hosting discussion with national leaders to learn from their experience

collecting and curating information on meritorious program features from other campuses that can serve as models